CARING-Gold project aims to end child labor and improve working conditions in small-scale mining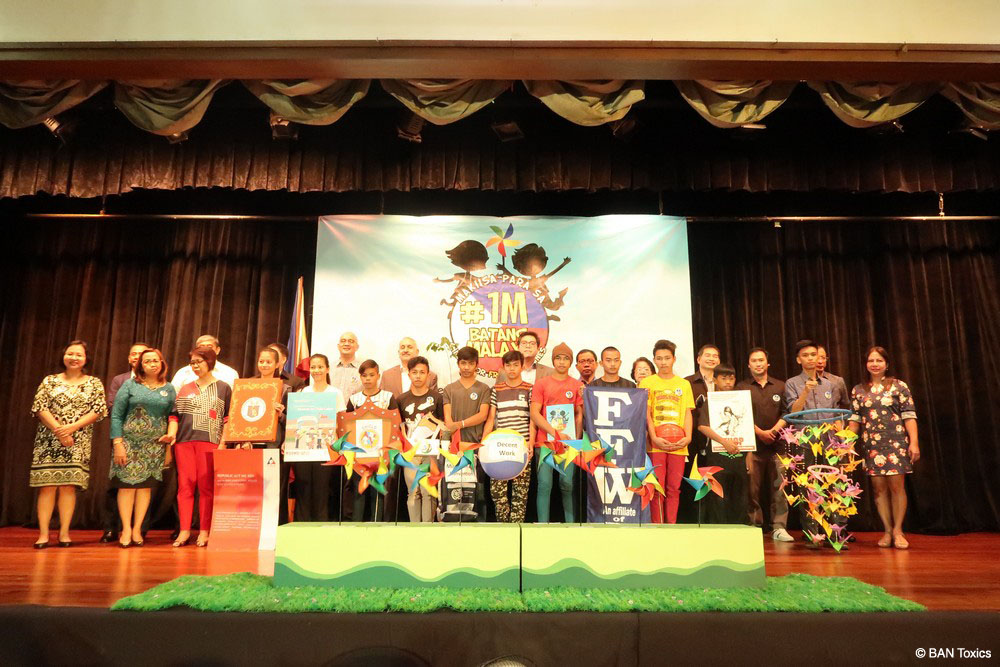 BAN Toxics, together with the International Labor Organization (ILO), the Department of Social Welfare and Development (DSWD) and the Department of Labor (DOLE), called for an end to child labor in the Philippines. These groups launched three major initiatives to combat child labor in the country during the event "Makiisa para sa #1MBatangMalaya" (One with children to end child labor) last January 12, 2017.
BAN Toxics and ILO launched the initiative CARING Gold, a three-year strategy to eliminate child labor in small-scale mine sites. The project is eyeing the formalization of the small-scale mining industry as a critical solution to prevent boys and girls from working in mines.
As an informal livelihood and unregulated industry, artisanal and small-scale mining (ASM) reproduces poverty and vulnerability in many ways. It is associated with poor labor practices, environmental destruction and social problems. Formalization is expected to open the way for better regulatory and monitoring mechanisms that will support improved working conditions, increase the access of workers and communities to social services and eliminate child labor in the sector.
"Eliminating child labor in small-scale mining starts by ending the vilification of the sector and giving impoverished families a fair chance," said BAN Toxics CEO Atty Richard Gutierrez. "The government needs to recognize small-scale mining as a legitimate economic activity that brings benefits to communities and which can be a driver in generating income and reducing poverty in the countryside."
Because it is informal, small-scale mining is largely outside the government's radar. Labor conditions in the sector fall way below accepted standards. Workers usually do not have protective equipment, fair labor contracts, healthcare or social security. Child labor is prevalent.
Child work in mining is considered one of the worst forms of child labor as it jeopardizes children's safety and health. Child miners crush rock, haul ore or perform sluicing, panning or smelting. They carry heavy loads, work long hours and are frequently exposed to toxic chemicals such as mercury. Children's bodies are still developing and such work conditions and toxic exposure negatively impact their physical and mental development.
"Child labor is complex and deeply rooted in poverty. Children suffer and risk their health or even their lives to work for their family's survival. Ending child labor requires strong commitment and collective effort," said Khalid Hassan, Director of the ILO Country Office for the Philippines.
Although workers are mired in poverty, the sector remains a major economic contributor, providing as much as 80% of the Philippines' annual gold production. It directly employs around half a million people and indirectly benefits two million people in remote rural communities. But lack of formalization has prevented the equitable distribution of benefits from small-scale mining, with money going to foreign middlemen and illegal payoffs to corrupt authorities, instead of to legitimate payments that can augment local government income.
The CARING Gold project is designed to support the setting-up of Minahang Bayan areas that are compliant with environmental, health, labor and social justice standards. The formalization of the industry is also expected to make an additional valuable contribution to the local economy.
BAN Toxics is an independent non-government environmental organization that works for the advancement of environmental justice, health and sustainable development in the area of chemicals and wastes, with a special focus on women, children and other marginalized sectors.